VENTILATION
According to the primary concept, it means airing a closed room, that is to exchange the accumulated air by the pure air coming from outside.
These are the various alternatives to air:
1) Natural introduction and extraction. (Ecologic - Wind)
2) Mechanical introduction and natural extraction.
3) Natural introduction and mechanical extraction.
4) Mechanical introduction and extraction.
We refer only to natural extraction and introduction, and we expand details of our wind ventilation system.
NATURAL VENTILATION
In order that this principle happens, we have to be unfailingly provided with an entrance and exit of air. These conditions might be solved by the ligation of two windows or doors, strategically diagramed, and if we have a flow of air directed properly, we will cause natural ventilation. This is a system that does not provide a security of constant operation, because we depend on the wind direction to make it effective. The replacement of air therefore does not provide us a reliable solution.
MISCELLANEOUS EQUIPMENTS
The Argentine market offers different alternatives which tend to solve the problem of ventilation. So we will find static systems from a tube with a "Chinese hat" in its extreme to elements of varied forms as those with H-shape, ducts with a targeted orientation or the popularized system with side vents (skylight).
In all cases, they are static elements, without any rotation movement. These devices operate evacuating the hot air, by the pressure they exert, because they are less dense or lighter than cold air. The air accumulated in the highest part of the place find an outlet connected with the outside by which it is naturally evacuated.

The items indicated suffer from a flaw in its design. They do not take into account the presence of wind. The wind acts in a negative way on these devices because the pressure in the output apertures, cause the closure of them and, in some cases, enters in the pipeline, blocking the extraction effect and canceling the physics principle of chimney evacuation by fluid of.
In other cases, the wind passes through the aperture, functioning as cover, which prevents the exit of hot air.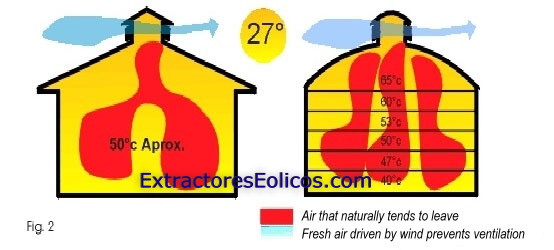 To assess this behavior, we will say that a wind of 10 km/hour, exerts more pressure in air outlet static pipelines, than the pressure resulting from an ambient temperature of 40° Celsius.
Therefore, we mean that it is unhelpful any system that depends on the wind direction, speed or lack thereof, to achieve the task of ventilating a closed room.

PROPOSED SOLUTIONS

As illustrated, we present to you various alternatives as an example, to solve the shortcomings in the field of natural ventilation.